Liveaboard Information
Cabins: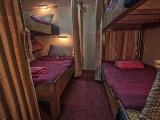 Quad Cabins x 2 (10 sq meters)
Max occupancy: 4
Details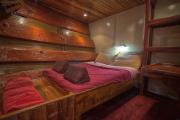 Double Cabins x 2 (8 sq meters)
Max occupancy: 2
Details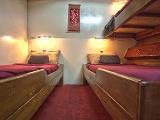 Triple Cabins x 2 (10 sq meters)
Max occupancy: 3
Details
Transportation to & from the nearest Hotel or Port NO

Compressors Generators Cruising Speed
Additional Notes
About Us
Step aboard The Junk and spend your liveaboard diving holiday with us to the most fantastic diving sites around Phuket, Thailand and the Similans and we'll give you your best liveaboard diving vacation ever! We are famous for our high standard of service and serving the best 5 star food you have ever had on a diving liveaboard (according to most of our customers even the best food during their whole stay in Thailand)
The Junk has six cabins, most of our customers these days book private double or twin share cabins, as a result on most Similan liveaboard cruises we only have 12 customers total on our 33 meter ship. We are the owners of The Junk and offer a 100% price guarantee. Book with us and enjoy value for money during your Similan liveaboard holiday.
You can also enjoy piece of mind that you have contributed in the maintenance of this beautiful historic liveaboard vessel. SPECIAL OFFER Any type of cabin (2person/3person/4person) 130.000 Baht per cabin. NEW the Junk will spend June until October 2014 touring the local dive sites south of Phuket doing a 5 day 4 nights liveaboard diving cruise, check the interary here.
Certifications

PADI

Open Water Diver or equal rating

PADI

Open Water Diver, or equal rating